Dec. 10th
at the Local Project, 21-36 44th Rd., Long Island City, NY
http://www.qmad.org/
.

MAM will also be donating art to the OUR CHILDREN: HONOR WITH ART Art book project started by Shawn Marie Hardy to raise funds and awareness for abducted, missing and exploited children. If you would like to become involved, bid and/or donate art, visit www.honorwithart.com .
MAM has donated a piece of her art to the FRAMING AIDS 2006 show in conjunction with World Day With(out) Art. This show started on the 2nd and will be going on through
So many fantastic books have come in, that I'll be doing a series of book review posts. All of these books are perfect for the holidays, especially as gifts and for the artists in your life. Onward...
Nonfiction:
The Davinci Notebooks by Leonardo Da Vinci, edited / introduction by Emma Dickens, (Profile Books Ltd UK 2005)
. What can I say? This small book is scrumptious! Let's go to a quote:
"Now there is a certain race of painters who, having studied but little, must take as their standard of beauty mere gold and azure, and these, with supreme conceit, declare that they will not give good work for miserable payment, and that they could do as well as any other if they were well paid. But, ye foolish folks! Cannot such artists keep some good work, and then say: this is a costly work and this more moderate and this average work and show that they can work at all prices?"
Boy do some, "foolish folk" come to mind but shall remain nameless. When was this written? Some 550 years ago!? Sad that some have not learned such sage advice and how bad of business it is to try and turn art elitist and court only the wealthy. Why else is everyone flocking to design for Target and H&M? This is just one passage that could spark so much debate. Leonardo's book would not only make for a welcome gift but it also could be put to such great "Salon" use with each sonnet making for deep discussion.
The Girl with the Gallery: Edith Gregor Halpert and the Making of the Modern Art Market by Lindsay Pollock (Public Affairs 2006)
. Now Edith comes from a line of women I like to call, "Chutzpah Women". Women who show guts and not only made great strides for women but for their industries and causes as well. Ms. Halpert happened to indeed be of Jewish decent but other Chutzpah women include Coco Chanel, Frida Kahlo, etc., and it's surprising to see threads of sameness stretching through all of their lives. A certain, "something". Coming to the US as a small girl from, as she would say Odessa Russia, Edith changed her name and told various white lies to get herself into art school and sales jobs. All the while visiting museums and galleries with a keen interest in art. When her own artistic talents didn't pan out, Edith went on to open up a series of revolutionary art galleries in NYC and has been credited with making American art not only popular but worthy of collection. Lindsy Pollock brings back into light a women who has sadly been virtually forgotten by both artists and art dealers. A woman who's life was spicy, successful and a good example of what going out on a limb can achieve.
Town & Country Handbook for Hosts: A Practical Guide to Party Planning and Gracious Entertaining by Adam Bluestein (Hearst Books 2006)
. Just in time for the holidays and all those Salons you wish to hold comes the perfect addition to your, "someone help me please!" library. A tad bit stuffy yet filled with chic illustrations and short paragraphs which sort of makes up for that, this is a book created to be
used
. Thick pages, lists of things to do, large type, sturdy cover. I was surprised at the helpful detail this book took the time to go into including how many people make up a good cocktail party, what sort of drinks to serve and even music suggestions (the music was indeed optimal) that won't compete with conversation. Small apartment entertaining has a few pages and a whole quarter to being a decent guest. This book is classy and very helpful yet the author reminds us, "The job of a host can be many wonderful things, but there is one thing it surely isn't--easy. Don't let anyone tell you otherwise." At least they're truthful.
Coming next even more unique and new non-fiction releases as well as fiction with an artist slant for your holiday wish lists.
Holiday Book Reviews Part I


Here are the latest places to see MAM art:

Dec. 21st 2006 blütenweiss - Raum für Kunst, Prenzlauer Allee 224
10405 Berlin Germany "Anonyme Zeichner 3"

Dec. 8th (preview) through Dec. 26th 2006 de la premiere exposition, La Cour Des Arts, 55 Avenue de la diberation, 13210 St. Remy De Provence, France, "Saint Remy de Provence" (no need to mention of course but look for lots of Van Gogh's spirit)
Greetings everyone,

(A Heavy Load by Molly Mckee for "Marriage, Home & Faimly")

Opening Reception, November 17, 5-8pm, Show Runs November 17 - December 15 Union Art Gallery, 2200 E Kenwood Blvd, Milwaukee, WI, "MARRIAGE, HOME & FAMILY". (see my mixed media piece, "Night of the Henna Hands")


Jan. 2007 Jeffersontown Library Exhibit Space, KY "Coffee - How does it make you feel?" and then travels March 2007 to Day's Esspresso & Coffee House, Bardstown Road, Louisville KY and April 6th 2007 to the Expressions Gallery, 1800 W Muhammad Ali Blvd, Louisville KY where art will be auctioned off for a good cause. (see my piece "Jitterbug")


Coming soon:
* A full review of the 9th Annual 2006 Chocolate Show New York City, including great chocolate art and gifts!
* Book Reviews
* Show Reviews (must sees)
* More Art News
Current Mood:

chipper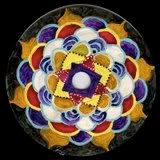 ("Manadala" by MAM 2005 for Carla Cryptic's "Manadala". Copyright MAM 2005.)
Nov 18th and Nov 19th 2006
blütenweiss - Raum für Kunst, Prenzlauer Allee 224
10405 Berlin "Anonyme Zeichner 2"
(preview) Dec. 1st and (sale) Dec. 2nd 2006
Sikkema Jenkins & Co.
530 West 22nd Street (between 10th & 11th Avenues) "Postcards From the Edge Benefit"
Well here I am back with the updated art news as promised. I have so many people I wish to thank and shows to cover that sadly I won't be able to mention everyone. I fear this would end up to be too much of a tome (it isn't already?) . So I'd like to broadly thank every kind soul who has reached out to me over the past few months… you all know who you are! Now on to the recaps:

This past summer/fall 2005 in Alcanar Spain and at the Biblioteca Publica "Trinitari Fabregat" Alcanar Tomas Camacho Mouna along with a number of organizations including the Regidoria de Cultura de l'Ajuntament d'Alcanar, held "Knot 2005". Despite the title this art show was actually bringing awareness to water resources. Of course it was a given I'd be interested in this but strangely enough (yes even to me) I didn't submit something koi related. Instead it was a mixed media piece including ice skating, hands and henna for a mix between those in need of water and the more superfluous in the West. Thank you Tomas for the gorgeous art catalog. The art submitted was really incredible.


Next another past show from 2005 was, "Der Clown Auf Der Motorrard" put together by well known mail artist Peter Netmail of Mekka Minden Germany. This was beyond hilarious and it felt good to be in this show. Thank you Peter! The catalog is a real feast for the eyes and so were all the postcards. Too bad I missed out on "We Are Pope", but look forward to sending art to Peter's next show (the name of which eludes me at the moment).


Next we have "Do Not Fold, Bend, Spindle or Mutilate: Computer Punch Card Art" held this past July 28th through September 17th 2006 at the Washington Pavilion of Arts and Science Visual Arts Center, Sioux Falls, USA. Thank you Howard Spencer for inviting me as well as including my contribution in the show. This along with Carla Cryptic's "Mandala" show and the Cartalog Library Index Cards art book show has really forced me to use weird surfaces on which to do paintings… maybe bingo cards will be next? No, no, just kidding. Sorry John Walker. My piece:


Punch Card Koi aka swiming in numbers 2006 copyright MAM

Now off to Greece, Nicolas Gatsas of the, "Dream City" show has created a lovely website: http://www.leukipoli.gr/dreamcity/ . The traveling show will take place in Elassona (September 2006), Larisa (October 2006) and Athens-Piraeus (2007) Greece. My piece is, "City of Trees". Thank you for including me.


Matthias Brugger was kind enough to send me pictures from the show, "Zwischen Himmel und Erde" that I was included in at the German IBO Internationalen Bodenseemesse (see one of my past art posts for more on that). Here is one of them:

Matthias' website is:

www.spaltenstein-projekt.eu

Anke was also kind enough to send pictures from their show, "Anonyme Zeichner 1" in Berlin Germany. It was held this past October 2006 at the bluetenweiss, Raum fuer Kunst and according to Anke was a great success. Thank you Anke for including my little koi and good luck with Anonyme Zeichner 2. Anke is also a fantastic artist and you can visit her site at:
www.anke-becker.de


Quickly I would also like to thank the curator (NY, USA) of the, "Remember September 11th" show for inviting me to send art again and also for sending the moving poster of art from last year. Also I want to thank Elena Ilina for sending me her catalog from her show, "Der Besetzte Raum" in Munchen Germany… talk about incredible. I'm in awe. Sadly Ilina's site is down right now so I can't direct you to it but I would if I could. Thank you again to the numerous other people who have shared their art and talents with me over the past few months.


I'll be back with more later this month, including reviews and event dates. In the mean time I'd like to Wish everyone a very happy holiday season!


Republished from original blog
Hello one and all,
I hope you are all having a wonderful fall so far! As can be seen things have been exceptionally quiet here because I am hard art work on multiple projects (some of which you will soon see). I will be back in a few days with tons of art news, happenings and reviews. In the mean time here is my last bloom of the season.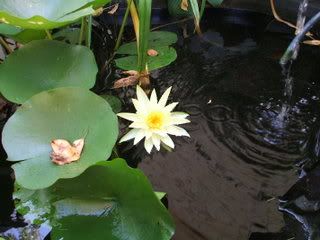 (copyright Dr. M. 2006, all rights reserved. No copy or reuse.)

Save These Dates (for those in the NYC area or who will be)

See the amazing Ice Theatre of New York do ice concerts at Bryant Park, Rockefeller Center, etc., starting now through April 2007. Visit www.icetheatre.org for more information / dates. I adore them so much and once you see them, you'll know why!


Wednesday, Nov 8th, 5 - 10pm, "Night of 1,000 Drawings Benefit" at Artists Space, 28 Greene Street, 3rd Floor. Admission $10. (it'll be easy to find me, as usual).

Friday, Dec 1st through Jan. 5th "Annual 4x6 Benefit Show & Sale 2006", The Creative Center: Arts in Healthcare. 147 West 26th Street, 6th Floor. (ditto as above)
Greetings everyone,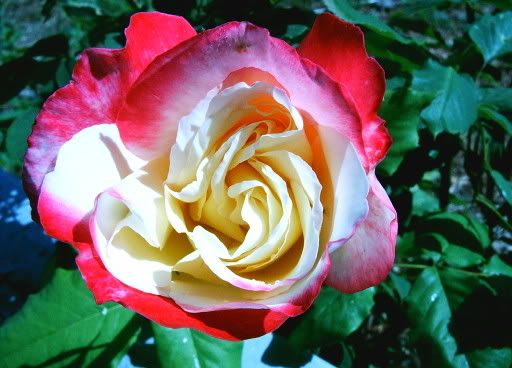 (copyright MAM, all rights reserved. No copy allowed.)
I read the most disturbing piece recently in the New York Observe, "N.Y. Beauties Collapse: Formerly Chichi We, Now Netflixed, Dumpy" May 06... New Yorkers are said to be giving up! On what? On life! They don't want to go out because it takes too long (and that includes on foot due to masses of pedestrians). They're tired of "pay to play" and they're disenchanted with socializing in general. Liz Smith summed it up well with:
"I just don't go downtown anymore, and I used to go to the Village, Soho or Tribeca all the time... the best way to spend an evening these days is with a good book, television and the phone turned off"
What? I can't help but feel New York is a barometer for the nation as a whole. Here are a few other notable and telling quotes:
"All the restaurants and bars are packed. I usually just pick up food or order in"



"Even the famous New York art conversation--the expectant thrill of engaging with witty and deep minds into the wee hours--has fallen by the wayside."



Liz again, "It use to be you could get anywhere in New York in 15 minutes--even Brooklyn. There's a lot more cars, and a lot more of absolutely nothing going on"
Ouch! This article is very sad yet at the same time very true. It seems like a lot of these "issues" come as a result of poor manners and deteriorating social skills in general. Another thing pointed out by Liz Smith. Looking at the
Sartorialist
is one of the last bits of confort that all this is just some bad dream.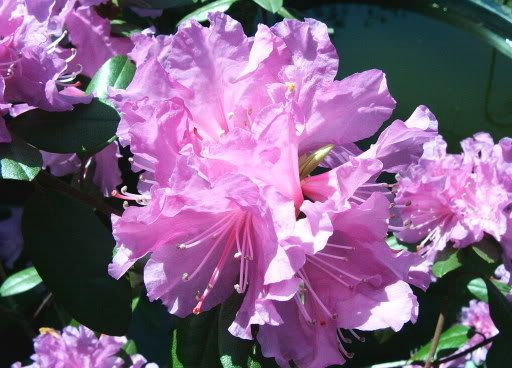 (copyright MAM 2006. All rights reserved. No copy allowed.)
And Jonathan Jones is right...
Can Rich Guys Ever Be Good Artists? There are plenty of examples throughout history of artists who wound up making a pile of money from their work, but Jonathan Jones suggests that when extravagant financial success comes too soon, an artist can quickly lose his/her edge, or at least the perspective needed to relate to the audience. "Dalí and Warhol both lost the spark of brilliance as money became central to their lives. At least in Warhol's case there was a pertinence, even a kind of martyrdom, to his immersion in the dollar sign, the ultimate Pop icon. When you become as rich as this, being as rich as this becomes your story. If you don't make art about being a multimillionaire, you are being dishonest. If you do, you can hardly claim the universality of great art." The Guardian (UK) 04/27/06
Speaking of this I'd like to thank the following artists for reaching out to me: Schoko Casana Rosso of Germany was kind enough to send an invitation to "My Five Elements" and a fantastic hand carved rubber stamp art. Sorry I couldn't send anything in time but thank you! Then Larzac village has a new theme of "Water", thanks Agnes Gipoulou - Mouche for inviting me and I hope to be sending a painting soon. Water is of course one of my favorite subjects (along with a certain colorful fish). S.I.C.A.r.T sent a great invite but I missed that deadline too. Hope you had a fantastic show and I hope to send ATC's sometime in the future. Lore Kraus - Kiechle was kind enough to send what looks like an invite to a show in Germany. I'll have to translate it better. Thank you too to Marielle Conte of (France), Sarah at the Cartalong for the great show postcard (USA) and the French post office for inviting me to "Travel". I need to get a move on to make these deadlines!
As for shows that have already past, thank you Luzia Brown for the CD from, "In the Company of Women" held at the women's conference in, I think, Maine USA. According to Luzia it went over very well with the women. I sent a photograph of our all women cycling team.

(copyright MAM 2005. All rights reserved. Photo shown at Luzia's Show)
As an aside I can't even begin to stress the importance for women to unite together and support each other. In a recent article by Body + Soul magazine it had a lovely piece on the importance of friends and how female bonding creates positive effects on ones health. One of the reasons women are thought to outlive men is due partly to these close relationships.
Then there is Maxi Boyd (Canada) who sent art by the artist Thompson in exchange for mine as well as an ATC which I adore. Thanks so much Maxi and I hope this year I'll be able to participate in your annual pet art show. Maxi frequently has ATC swaps on very unique themes.
Off to France and the fantastic Claire Blettery and her show "Clair - Obscur". I seem to remember sending something very strange. An ATC painting inside a vellum envelope or something like that. Depending on how you looked at it, it would either be clear or obscured. The poster is really nice and it looked like so many participated. Over 200. I think the show was held at the L'Atrium in France.
Staying in France there was the Le Timbres de l'Art Postal show, "Ange ou Demon" held in colaboration with the Musee de la Poste de Paris. I really enjoyed looking at the freaky art in the color catalog. Thank you for including me.
Last is something very unique. The Head teacher , M. Brett, at Durham Gilesgate Sports College sent me a nice certificate for being in their "My World" show this past January 2006 at the Sixth Form Centre Arts Centre, England. It was such a colorful show and their facility is very nice. Thank you!
Also I've gotten lots of e-mails from the Italian, "

Book Art
" show and the altered library cards show with Sarah. Thanks so much for keeping me updated on things. One of the few redeeming aspects of the Internet.
Well back to painting.
Wishing everyone much peace and joy!
-M
Where did March go? Who knows but here's this months art update. For the most part things have been quiet yet there has been a plethora of collaborations amongst artists all over the world.