Be sure to check out my new blog project GaveThat.com

Gave That is a personal look at giving in all its forms, with reviews, news and projects updated daily.

What We're On The Lookout For:
- Want to be our weekly style muse? Join our flickr group and submit your gift style pictures!
- Have a DIY project that would make an amazing gift idea? Send us the link to your blog post or contact us at info@gavethat.com .

Some of our most popular posts:
- Online Secret Sample Sales & Invitation Codes + Reviews
- What To Do When Someone Returns An Unwanted Gift
- 50 Simple Gifts To Give Yourself
Be sure to see The Ice Theatre of New York who's season is starting soon. Catch them at the Chelsea Piers NYC starting this October 29th 2007 (Gala) and the show dates of November 1st, 2nd & 3rd. For other dates and locations, be sure to visit
http://www.icetheatre.org
. They are amazing and not to be missed for the world! This year, along with David Liu (who is so nice to talk with) and Douglas Webster, you'll be able to see -for the first time- works by Twyla Tharp including "After All".
Gauguin / Savage Light by George Fischoff at the Roy Arias Theatres, 300 West 43rd Street, 5th Floor, NYC until November 18th 2007 (so hurry). This way off broadway musical by George Fischoff features amazing singing and a unique take on the master painters life. Now this is a short musical after all so one shouldn't expect a detailed biography of Gauguin's life and with a small cast, you'll be seeing the same people over and over in various roles but the subject combined with Mr. Fischoff playing the piano makes this quite out of the norm and a must see.
In the NYC Area
The weather is absolutely delicious outside and I, like the rest of the NY Observer dubbed
Mole People
, will be making the best of it. Due to this I'm going to be feverously posting my huge backlog of updates in quick succession along with my "Summer Reads Book Reviews" and "Chocolate Show NYC" experience before going on a bit of a blog hiatus.

(Channeling Lewis & Clark this May 2007 - MAM Canoe Shot)
First up I would like to thank both
Alyssa C.
(at Sikkema Jenkins & Co. NYC) and
Lorena C.
(at SPACE NYC) for buying my art for their respective charities. Both are very meaningful and important organizations and it was wonderful to be involved with their fund raisers. VisualAIDS reported raising $62,000.00 and Artists SPACE, $20,000.00!
Next I have a whole plethora of individuals I would like to say thanks to and acknowledge (in no particular order): Mark Sonnenfeld from Marymark Press, C.Z. Lovecraft, Dr. Mamoru Uemura, Bob at the Modesto Art Museum (the artist stamp is fab!), Gilbert Fanjat, Keith Taylor, Ricardo Gonzalez, Melissa E. and Erika D. of Milan,
Ryosuke Cohen
, Andrea Skyberg, Dan Murphy of The Juniper zine (the latest issue is now out and you can get it by sending a few first class stamps to Dan at P.O. Box 3154, Moscow ID 83843 USA- like Readymade magazine only 10 times better and indi), Keith Roberson, Alyssa Ringler, Anke Becker, Valeria Pouza/Zunzun & Sophie Blachet and the
numerous
artists, curators and patrons who have contacted and worked with me these past few months of 2007. Special thanks to the patrons of my miniature folk art series which ended up totaling some 200 pieces now in private collections around the world. A particular initiative which far exceeded my expectations.
I also wanted to share that the amazing Germany based artist
Elena Ilina
let me know of her latest show entitled, "Lessons For Other Times" at Atelier "Soldina" Soldinerstr. 92
Berlin-Wedding S-Bahn Wollankstrasse, Bus 27, 255 bis Soldinerstrasse - 2 Haltestellen oder 7 min zu Fuß U-Bahn Pankstrasse, Bus 27, 255 bis Soldinerstrasse - 2 Haltestellen oder 10 min zu Fuß Vernissage am Fr dem 25.5.07 um 20 h Offen auch am So 27.5.07 von 14-18 h und sonst nach Vereinbarung unter 0178 63 69 697. If you're in the area please be sure to take a look.
Stay tuned for even more reviews, art retrospects and show snapshots from this and last years past events!
Greetings everyone!
Isabella Blow
Originally uploaded by enoughrope.
Boy does Peled's 2005 documentary
China Blue
take major shine off the fashion for the masses apple ( I.e the Top Shop Kate Moss', Target Patrick Robinsons', Gap doo.ri's, etc., of the world). Do people really think about who's making these clothes anymore? Are people like Jasmine Lee really making a better life for themselves and their family? Are they happy? They sure didn't look it in the film.
Watching Jasmine Lee is hard. I really wonder where she is now and how she is fairing? One almost wants to write her a letter like she suggested. If you check out the
PBS Independent Lens
website you can get the scoop on the documentary and how to get a copy on DVD. Even though it isn't long and rather simple it was extremely moving and as the website says, after watching it I don't think people can look at clothes the same way again. Time and again pieces pop up about sweat shops but they always seem to quickly die down and fade from memory, when is this going to stop? When will quality trump quantity? I find this all rather interesting considering how "green" people and the media have become this year.
Anyway, I'm thinking of turning the banner quote in the film into a T-shirt:
"If you don't work hard today: You'll be looking hard for a new job tomorrow"
...how motivational
As a side note, R.I.P Isabella Blow. You and your quirky sense of self will be truly missed. See the New York Observer piece,
"Simon Doonan: I Missed The Boat on Fashion's Dizziest, Saddest Dame" here
(yes, for some reason I adore Simon and his column). While you're there you can also look up their past article on Patrick Robinson (soon to be a Gap man?) doing Target and the current capsule trend.


March 3rd through April 6th 2007, Reception March 23rd, Higgins Art Gallery, West Barnstable, MA, "Women: The Image".

April 6th 2007, The Expression Gallery, center of Market & Shelby Streets, Louisville, Kentucky, "Coffee"
See MAM's latest art on display at:


blütenweiss - Raum für Kunst, Prenzlauer Allee 224
104050 Berlin Germany,

Anonymous Drawings 5
Saturday, March 17th, 2007
19 pm
Additional opening time
Sunday, March 18th, 2007
1 - 8 pm

&

"Bike-Power Exhibition" at the 621 Gallery, Tallahassee, Florida USA, Opens "First Friday", March 2nd (Gala Opening Night). Runs the 2nd through the 30th of March 2007.
See some of MAM's latest art at:
The Heartless Stone: A Journey Through The World Of Diamonds, Deceit And Desire
By Tom Zoellner 2006
Just in time for V-Day.org and more importantly on a marketing scale, the movie Blood Diamonds, comes the text dense memoir by Tom Zoellner. The Heartless Stone released late last year picks up where the original Blood Diamonds leaves off and presents a broader if not more disturbing picture of global diamond trade. This broader picture includes the negative effects both economically and environmentally within Africa aside from the regions considered to produce bloody diamonds. Thanks to the movie many people in America know the evil dubbed Blood Diamonds including people having their hands hacked off and children recruited for war but what many don't know is the so called clean diamonds from Africa are rather tainted as well. Tom paints a troubling picture of child labor, men being paid 3 USD an hour to mine diamonds that are resold for hundreds of thousands of dollars and then there are the mines themselves… in most cases nothing but large holes in the ground subject to cave ins, especially during the rainy season. As more and more would be brides are snubbing diamond engagement rings it makes one wonder if they read Tom's chapters on how the secondary diamond market is almost nil (engagement ring diamonds = poor investments from a financial standpoint) and how the whole diamond engagement craze was woven into the fabric of American wedding dresses via brilliant marketing (Diamonds are Forever). While Tom's reminiscing about his own failed engagement borders on sappy and even downright bizarre (do little boys really dream about their wedding day?) it seems like they serve a purpose and that's to momentarily distract the reader from the bombardment of unsettling text. Tom also goes to great lengths to convince you everything in this book is the truth… the result of a "Million Little Pieces" I guess although I have a few doubts. Still, this is a major eye opener and may get a few people out of a sticky jam if they couldn't afford a little bling for that special person this V-Day.org.
Exhibit: February 5-24, 2007, Modesto Art Museum, Anderson Gallery, 1323 J Street, Modesto, California Mon-Sat, 10-4 Free, "Future Vision".

Exhibit Reception: Anderson Gallery, 1323 J Street, Modesto, California, Thursday, Feb 15, 2007, 5-9 pm,$2 No charge to museum members or participating artists. Includes theremin demonstration.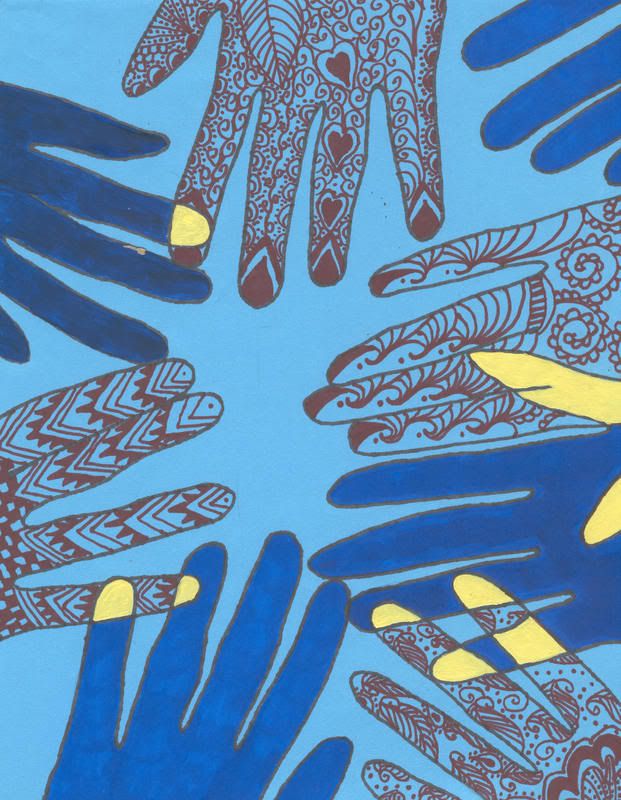 (2007 "untitled" ink on paper, copyright MAM, all rights reserved.)


Freitag, 9.Februar 2007
ab 19.00
zusätzlich geöffnet
Samstag, 10.Februar 2007
13-20 Uhr,
blütenweiss - Raum für Kunst, Prenzlauer Allee 224
10405 Berlin Germany,
"Anonyme Zeichner 4"

&

Jan. 9th through Feb. 3rd with opening reception Jan 13th, 6pm to 9pm, Gallery RFD, 106 N. Green Street, Swainsboro, GA 30401 USA, "The Art of Communication"
Wishing everyone a very happy holidays and fun filled yet safe New Years!